Daytona Soccer Club Unveils First Logo Showcasing Iconic Destination
DAYTONA, FL (March 1, 2019) – Daytona Soccer Club (Daytona SC), the newest member of USL League Two, has revealed the club's logo today at the team's offices in downtown Daytona. The unveiling of the logo is a significant milestone for the club, and marks the team's commitment to Daytona and the excitement leading up to the inaugural season opener on May 4, 2019 at Daytona Stadium.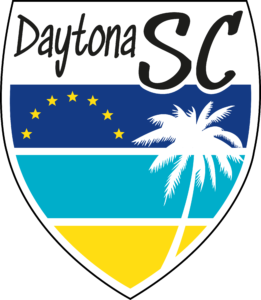 The logo features the Daytona SC name and colors of yellow, blue and black, which reflect the colors of the club while mirroring Daytona Beach at sunrise. Stars in the twilight sky provide a connection to Europe and the dedicated Transatlantic Sports Group, owners of Daytona SC. The team's home and away jerseys, as well as additional merchandise, will be available to fans in the coming weeks ahead of the club's inaugural season.
"The logo reflects our roots in Daytona Beach, as well as our dedication to connecting Daytona and European soccer and growing the game in Volusia County," said Steve Hutton, DSC president. "We want to make Daytona Beach a place where players, fans and teams will want to come for soccer."
Daytona Soccer Club is a semi-professional soccer team playing in USL League Two. A member of United Soccer Leagues, LLC, which also operates USL Championship, the new USL League One and Super Y League, USL League Two offers a summer platform for aspiring professionals across the United States and Canada. Daytona SC was founded in 2018 and will begin playing in May 2019 at Daytona Stadium. The team is owned by Transatlantic Sports Group (TSG), based in Frankfurt Germany, and Daytona Beach. TSG operates the team, as well as a residential soccer academy and serves as a consultant to clubs all over the world.